The Recognized Leader in Gender Confirmation Surgery in Colorado
June 12, 2019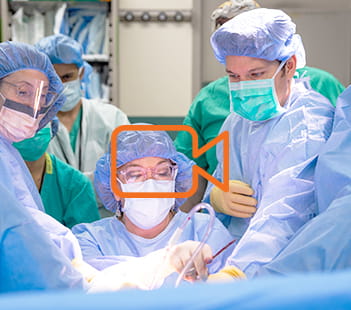 Denver Health is proud to be the recognized leader in
gender confirmation surgery
(commonly known as gender reassignment surgery) in Colorado and the surrounding states. This year, Denver Health is doubling the number of gender confirmation surgeries to reduce wait times for patients, now offering both male-to-female and female-to-male surgeries.
"We've worked hard to build a program that is competent and compassionate, and we'll do everything we can to take good care of you and your family," said gender confirmation surgeon and OB-GYN Jennifer Hyer, M.D.

Denver Health's gender confirmation surgeons have trained under Dr. Marci Bowers, a world-renowned pioneer in the field of gender confirmation surgery.

"This is a huge surgery. It's a huge surgery that changes a lot about your life, but it's not the end all, be all to your transition," Dr. Hyer pointed out.


The following gender confirmation surgeries and procedures are now offered at Denver Health:
• Bottom surgery including vaginoplasty, hysterectomy, orchiectomy
• Metoidioplasty (in development)
• Top surgery including breast augmentation and chest reconstruction
• Facial feminization surgery or FFS
• Hormone replacement therapy or HRT
• Tracheal shave

Gender confirmation patient Camille Hansen explained her decision to come to Denver Health for the surgery: "For me, I wanted to go deeper with it, not just be a girl when I have women's clothing on."

When Hansen woke up from her surgery, one of the first things she said was, "I feel like I'm in the right body."

Denver Health is the only hospital in Colorado that offers a continuum of health care before, during and after transgender surgeries. Care for the transgender community includes primary care (doctor's visits), behavioral health (psychologists/psychiatrists) and follow-up health care plans.

"Denver Health is special for the LGBTQ community because we offer care throughout your lifetime," Dr. Hyer said. "It's a pretty special thing that I don't think a lot of healthcare systems have."

Hansen added, "I feel like I can help other girls go through this and be like, seriously, it's amazing, it's safe, you know, if you have an inkling that you want to do this, Denver Health is the place to do it."

Gender confirmation patient Adr'yan Brown appreciated the special attention he received before and after his surgery. "The care team here is great," he said.

For Dr. Hyer, it's more than just another surgery. "This surgery is important to me because it really, truly changes people's lives."