Our Team
Denver Health's Department of Anesthesiology and Perioperative Medicine consists of a physician anesthesiologist (MD or DO) and a certified registered nurse anesthetist. As a leader in care throughout the region, we also use our expertise as a teaching hospital that is closely affiliated with the University of Colorado School of Medicine. All of our physician anesthesiologists serve as faculty at the medical school. To help train the next generation of health care providers, your care team may include an anesthesiology resident physician or a student registered nurse anesthetist.

For a full list of provider bios and details, use our Find a Provider search.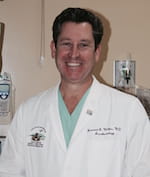 Director of Service
Denver Health Medical Center
Associate Professor of Anesthesiology
University of Colorado School of Medicine
Dr. Miller graduated from the University of Colorado School of Medicine in 1991 with honors (AOA) and also completed his residency in Anesthesiology at the University of Colorado. He has been a Diplomat of the American Board of Anesthesiology since 1992 and a practicing anesthesiologist at Denver Health with a faculty appointment at the University of Colorado for over 20 years. He has actively been involved with medical education throughout his career and has over 12 publications, presented at over 40 lectures and workshops, and has mentored several residents throughout his career. He has been listed in "Best Doctors in America" on several occasions and has received multiple awards as an "Outstanding Teacher." Prior to being appointed Director of Anesthesiology at Denver Health, he served as former Associate Director at Denver Health for over 3 years.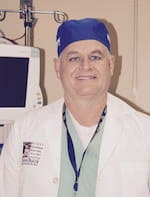 Chief Anesthetist
Denver Health Medical Center
Doug Warnecke is a practicing Certified Registered Nurse Anesthetist (CRNA) and Chief Anesthetist at Denver Health. CRNAs are experienced critical care nurses who return to graduate school for 2 to 3 years and study anesthesia at the Master's or Doctorate level, then pass a national certifying board exam. He has practiced at Denver Health for approximately 30 years and served as Chief Anesthetist for over 20 years overseeing a staff of over 30 CRNAs. Doug has actively been involved in the Administrative work of Denver Health, sitting on various committees including the Medical Staff Executive Committee and the Allied Health Credentialing Committee. He is a former recipient of the prestigious Florence Nightingale Award given by the Colorado Nurse's Foundation and former President of the Colorado Association of Nurse Anesthetists.