Arthritis Surgery Helps Guitarist Keep Strumming
October 12, 2018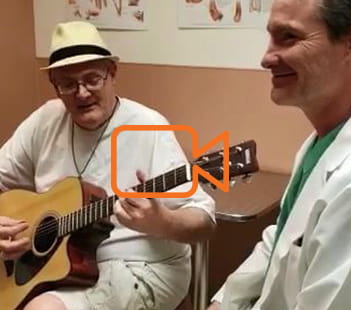 Ray Sheffield, Jr. is the lead guitarist for Denver rock band The Incognitos. He came to Denver Health for help with arthritis in his left elbow that almost stopped him from playing altogether.

"Several years ago, I slipped on ice and cracked my ulna bone in my elbow," Sheffield explained. "A little over 20 years ago, it started locking up again and hurting. Then, several months ago, it became much worse."
Concerned about his livelihood as a guitarist, Sheffield made an appointment at Denver Health to find out what was wrong. Dr. Rodrigo Banegas, a surgeon in our
Orthopedics Department
, studied the x-rays and CT scans and found several bone chunks floating around his elbow.
"The size of the loose bones in the joint was very unusual, like an olive-size," Dr. Banegas said. He used a special Japanese surgical technique to remove all of the bones from the joint.
After the surgery and therapy, Sheffield found it much easier and less painful to play his guitar. "I haven't had this much mobility since the 1990s," Sheffield laughed. It took just three months from his first visit to Denver Health to make a full recovery after surgery.
Denver Health treats any kind of arthritis in the joints, and surgery is not necessary in many cases. Dr. Banegas said Sheffield's case is "a typical example of a good result after treatment of unusual arthritis."